[Solved]

Tracking Free-Surface of SPH Particles
Hi All,
I am currently going through the LS-DYNA example of the dam-break wave generated by SPH particles ( https://www.dynaexamples.com/sph/intermediate-examples/wavestructure ) and I was wondering if there is a way to extract along a vertical line the free-surface elevation over time? Or conversely a 3D output of the free-surface of the SPH particles over time.
Thank you all for your time and consideration!
Hi @pjay
So you are wanting to get the output of the maximum height of the wave for a specific plane over time? Is that correct? 
Hi @negativevolume,
Yes that is correct, ideally I would like to take these measurements and compare them to experimental results from a flume to provide some sort-of calibration parameter. My initial thought is that you wouldn't be able to output a plane but rather a 3D shape as a SPH particle may never actually pass over that specific plane.
Cheers!
Did you ever find a solution to this? The only thing that I could think of would be going to Model -> Section and then creating a vertical section plane which you can drag to find the max height at a certain point in time. I believe you can also take some measurements using it. 
I never ended up finding a solution in LS-DYNA, I ended up creating a image processing script that used a video file output from LS-DYNA to extract the surface elevation, it is quite cumbersome though... Can't say I have ever tried using the vertical section plane, by drag do you mean basically setting the height of the section plane to be inline with the particles? I have also thought about trying to use tracers to export particle motion but what I have found is I would need a lot in order to get an accurate estimate.
Yeah so using the section plane function in Prepost to cut a number of sections and identify where the peak wave is and find what the height is. I've attached a picture below to show an example of this. You can even play the animation while keeping the cuts which may be useful to you.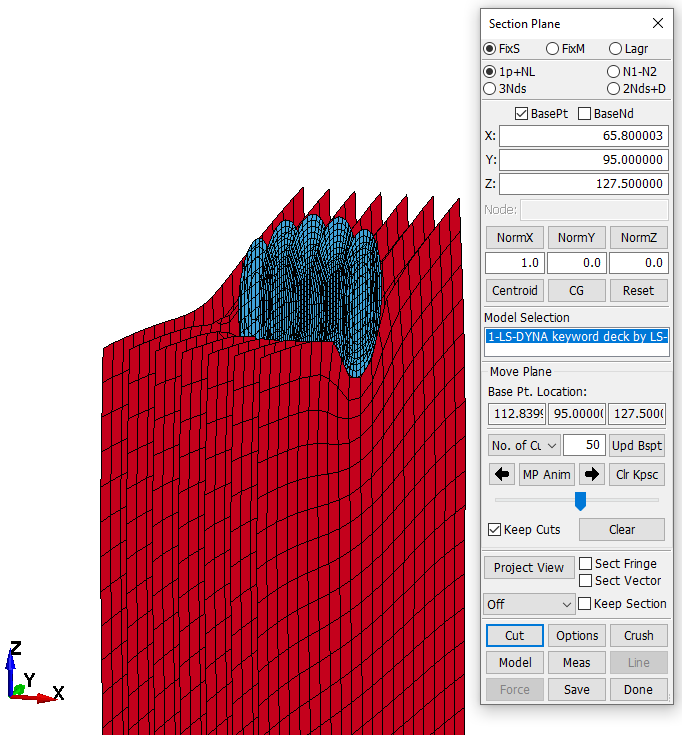 In case anyone comes across this problem as well. Another solution is to output your D3plot at a suitable rate and reduce the parts showing to only the SPH particles then go to Output > Select Active Parts only, select Nodal Coordinates, enter in the Append St No (state sequence to output) and save the file as a keyword format. You now have a file that outlines all SPH coordinates for all states output in a nice format that you can process however needed.
Does this output over multiple time states? I've only ever used it for single time point.
Yes the "Append State No" takes the following form:
start state : end state : n -> creating a file from the start state to the end state and output the states at a frequency of n.